YOUR TELECARE
CAN DELIVER MORE AND COST LESS
"A THIRD WAY" – TELEHEALTH AS A SERVICE
A groundbreaking partnership between Telehealth Central, Astraline
AND your Telecare Service
TeleHealth Central re-engineers and re-provisions basic telecare providers. Its digital customer platform automates engagement and on-boarding and its Care Relationship Management underpins more complex assistive care, blending 24/7 cover with specialist attendance.

Astraline is one of the most advanced providers of monitored care services in the UK, handling customer alerts, personal assistant support and leads the field in distributed cloud access.
This is matched by its research and evaluation of current and emerging in-home technologies.

Together they partner under the TeleHealth as a Service banner
How it works and is it for you?
The Third Way leverages an ideal, seamless convergence of your
local, experienced team with advanced cloud-based applications, monitoring systems and technology.
This optimum customer experience being managed in the name of your organisation.
As well as these cloud-based services, we're also able to provide :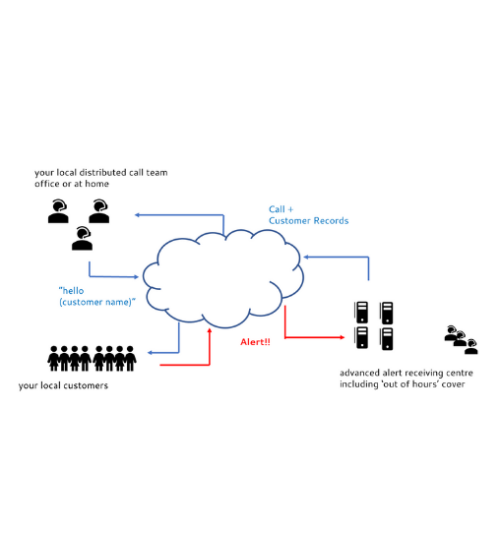 This page only outlines the Third Way principles, There are three phases to understanding and gaining more:
We first brief you and your
management in detail – this takes around an hour of your time at no charge.
Contact below to access your explanatory video.
1-day 'Management Intensive
This is usually followed by a 1-day 'Management Intensive' – education, analysis & assessment, growth viability
The Telecare Transformation & Growth Programme
– transitioning to the Third Way.
Remodelled Business Processes – as headlined during the management
intensive:
e.g. Customer Automation : Customer KPIs
Cloud Operations
e.g distributed call handling : migration : digital TEC transition
Enhanced Customer Telecare Services – provided by Greater Net Income
including– licensed applications, fulfilled
via the Third Way
Learn so much more at no cost, watch the informative 3rd way video tutorial